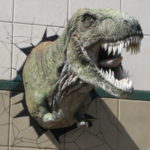 On Sunday, May 7, LJCF will welcome Robert Canen from the Glendive Dinosaur & Fossil Museum.  Located just off I-94 in Glendive with a massive T-Rex head bursting out of the front entrance, the museum is the second largest fossil museum in Montana and has been advertised as the "Largest dinosaur & fossil museum in the context of Biblical history".
Mr Canen will speak on the topic of Creation and the Bible on Sunday morning.  He will also provide information on the museum and how to visit and what to expect.
Everyone is welcome to attend this special presentation at LJCF during the Sunday morning service.  The Sunday morning service begins at 10:30 AM with singing and worship followed by the special presentation.
Plan a visit to the Glendive Dinosaur & Fossil Museum.  Go to creationtruth.org for more information.